Posts for tag: oral hygiene
By Periodontal & Implant Treatment Center
September 24, 2019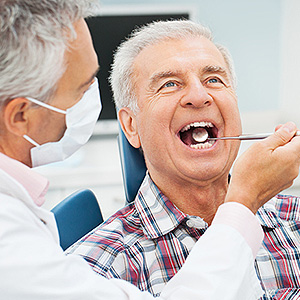 One thing's for sure: We're all getting older. Here's another sure thing: Aging doesn't necessarily look the same on everyone. That one spry octogenarian lapping younger folks on the track is all the proof you need. That's why September has been designated Healthy Aging® Month: to remind everyone that aging well is an investment you make throughout your life—and that includes taking care of your dental health.
Just like the rest of the body, your teeth and gums are susceptible to the effects of aging. For example, after 50,000-plus meals (about 45 years' worth), you can expect some teeth wear. A tooth-grinding habit, though, could accelerate that wear. If you think you're grinding your teeth (especially at night), we can fit you with mouthguard worn while you sleep that reduces the force on your teeth. Managing your stress could also help reduce this involuntary habit.
Aging also increases your risk for the two most common dental diseases, tooth decay and periodontal (gum) disease. Although different in the way they infect oral tissues, both can ultimately cause tooth and bone loss. Prevention is your best strategy—through daily oral hygiene and visiting the dentist regularly to keep the dental plaque that fuels both diseases from building up on your teeth.
You should also see your dentist at the first sign of a toothache, unusual spots on the teeth and swollen or bleeding gums. These are all indicative of infection—and the sooner you're diagnosed and treated, the more quickly you can return to optimum oral health.
Aging can bring other health conditions, and some of the medications to manage them could reduce your mouth's saliva flow. Because saliva fights dental infections and helps restore enamel after acid attacks, "dry mouth" can increase your disease risk. If you're noticing this, speak with your doctor about your medications, ask us about saliva boosters, and drink more water.
Finally, have any existing restorations checked regularly, especially dentures, which can lose their fit. Loose dentures may also be a sign of continuing bone loss in the jaw, a consequence of losing teeth. If so, consider dental implants: The design of this premier tooth restoration can help curb bone loss by encouraging new growth.
There's a lot to keep up with health-wise if you want your senior years to be full of vim and vigor. Be sure your teeth and gums are part of that upkeep.
If you would like more information about protecting your dental health as you age, please contact us or schedule a consultation. To learn more, read the Dear Doctor magazine articles "Understanding Aging Makes Beauty Timeless" and "Dry Mouth: Causes and Treatment for This Common Problem."
By Periodontal & Implant Treatment Center
July 16, 2019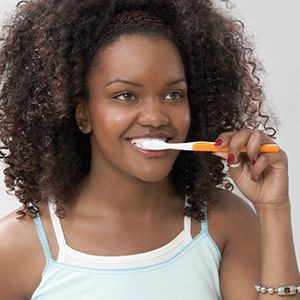 After several treatment sessions your periodontal (gum) disease is under control. But, while we may have won this battle, the war rages on. To keep an infection from re-occurring we'll have to remain on guard.
Gum disease begins and thrives on a thin film of bacteria and food particles on tooth surfaces called plaque. The infection usually begins as gingivitis, which causes the gums to become red and swollen (inflamed). Untreated it can develop into periodontitis, a more advanced form that progresses deeper into the gum tissues resulting in bone loss.
To treat the disease, we must remove all the plaque and calculus (hardened plaque deposits) we can find no matter how deeply they've penetrated below the gum line. Since the deeper it extends the more likely surgical techniques may be necessary to consider, it's better to catch the disease in its earliest stages when plaque can be removed with hand instruments or ultrasonic equipment.
The appropriate treatment technique can effectively stop and even reverse gum disease's effects — but it won't change your susceptibility. Constant vigilance is the best way to significantly reduce your risk of another episode. In this case, our prevention goal is the same as in treatment: remove plaque.
It begins with you learning and applying effective brushing and flossing techniques, and being consistent with these habits every day. As your dentist, we play a role too: we may need to see you as often as every few weeks or quarter to perform meticulous cleaning above and below the gum line. We may also perform procedures on your gums to make it easier to maintain them and your teeth, including correcting root surface irregularities that can accumulate plaque.
Our aim is to reduce the chances of another infection as much as possible. "Fighting the good fight" calls for attention, diligence and effort — but the reward is continuing good health for your teeth and gums.
If you would like more information on continuing dental care after gum disease, please contact us or schedule an appointment for a consultation. You can also learn more about this topic by reading the Dear Doctor magazine article "Periodontal Cleanings."
By Periodontal & Implant Treatment Center
November 08, 2018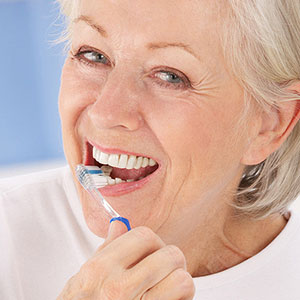 Dental implants to replace teeth are a popular choice as much for their durability as their life-likeness. Most implants last for decades, which can result in lower long-term maintenance costs than other replacement options.
But to achieve this longevity, you must take care of your implants. You should brush and floss them daily right along with your remaining natural teeth — and continue regular semi-annual dental visits for cleanings and checkups.
You may be wondering, though: if they're made of inorganic materials, why worry with brushing them? It's true that bacterial plaque, the thin film of food particles most responsible for dental disease, doesn't affect them.
Your implants, though, don't exist in a bubble: they're imbedded in real bone, surrounded by real gum tissue and placed next to real teeth. All these other living tissues are susceptible to infection caused by plaque, even from plaque on non-organic implants.
The bone and tissues around an implant can even have a higher susceptibility to infection. This is because an implant's attachment in the jaw differs from that of natural teeth. An implant is imbedded directly into the bone; a natural tooth, on the other hand, maintains its hold through an elastic gum tissue between it and the bone called the periodontal ligament. Tiny fibers from the ligament attach to the tooth on one side and to the bone on the other.
Besides holding the tooth in place, the ligament also contains blood vessels that supply the tooth and surrounding tissues not only with nutrients but also antibodies that help fight infection. Due to the absence of a ligament connection, an implant doesn't enjoy the same level of protection from infection. Â It's much easier for tissues and teeth around an implant to become infected, and harder to stop it.
That's why prevention through daily hygiene is so important. So, be sure to brush and floss all your teeth — including implants — every day, and keep up your regular dental visits. And at the first sign of a possible infection — swollen, red or bleeding gums — see us as soon as possible for an examination.
Consider your implants a long-term investment in both your smile and dental health. Taking care of them will pay dividends for many years to come.
If you would like more information on taking care of your dental implants, please contact us or schedule an appointment for a consultation. You can also learn more about this topic by reading the Dear Doctor magazine article "Dental Implant Maintenance."